☑ Discover why choose Vietnam for business and develop your idea? Step by Step guide ...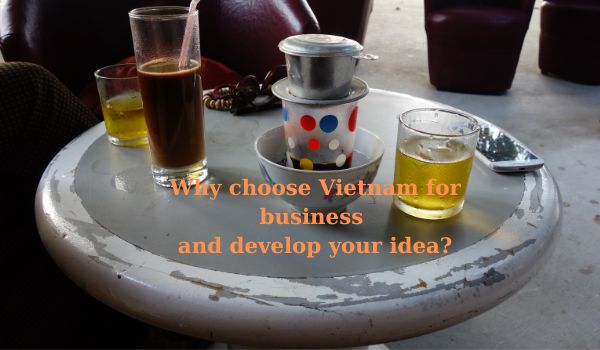 Why choose Vietnam for business and develop your idea?
Over the past few decades, Vietnam's economic growth has been one of the fastest in the world. This rapid development began with economic reforms introduced in 1986 and has continued since.
With its impressive economic growth and foreign direct investment attractiveness, Vietnam is regarded as an economic bright spot in Southeast Asia and has been presenting itself as a destination attracting foreign investors. Here are 10 reasons why foreign companies should invest in Vietnam.
Geographical location is the center of trade between many countries
With a long coastline and close proximity to the world's major shipping lanes, it is located in the heart of Southeast Asia - both a regional connection center and a gateway to economic penetration. International trade in Vietnam.
Vietnam also has a location adjacent to neighboring China. In addition, Vietnam has a long coastline, adjacent to the East China Sea and close to the world's major shipping lanes, which are perfect conditions for the trade process. The two largest cities in Vietnam are Hanoi and Ho Chi Minh City. Among them, Hanoi, the capital in the north, has very favorable business opportunities. The most populous Ho Chi Minh City is located in the south and is considered Vietnam's industrial "mecca".
Vietnam owns these seaports connecting trade in many areas
Vietnam is an ideal destination for foreign investors
Location advantages and a growing economy are not the only characteristics that attract investors. Vietnam always welcomes foreign direct investment (FDI) and encourages FDI by constantly updating regulations and encouraging FDI.
The Vietnamese government offers various incentives for foreign investors to invest in certain geographical areas or areas of special interest. For example, in a high-tech or healthcare business. These tax benefits include:
corporate income tax reduction

Duty-free imports, such as raw materials

Land rent reduction, land use tax exemption

In July 2015, Vietnam also implemented Decree No. 60/2015 allowing foreign investors to invest in more fields.
Vietnam recorded US$24.4 billion in foreign direct investment in 2016, according to the government. Giants like Samsung, Nestlé and LG are among the biggest investors contributing to this figure.
The government has many policies to promote effective business
Foreign investors' confidence in the Vietnamese market
After more than 30 years of opening up and attracting foreign investment, Vietnam has achieved encouraging results. Therefore, with open policies, incentives and an attractive business environment, Vietnam has attracted a large number of projects and FDI capital over the years.
Vietnam has many advantages in attracting foreign direct investment, such as security, political stability, favorable geographical location for trade with the world, being both a regional contact center and a gateway to the world. policies to create favorable conditions for investors.
Not only that, Vietnam has a large population with a young and mobile workforce; labor costs are low and average rents in industrial parks are 45-50% lower than other countries in the region such as Thailand, Malaysia and Indonesia.
As a result, Vietnam's system, laws and transparency have been gradually improved and linked to integration, which not only creates conditions for investors to operate for a long time, but also helps enterprises to smoothly participate in supply chains and global value chains.
Foreign investors choose Vietnam as an attractive investment destination
Up to now, 140 countries and regions have invested in 33,463 projects in Vietnam, with a total registered capital of 349.9 billion USD. Korea is Vietnam's main FDI investment country, followed by Japan, Singapore and Taiwan (China). FDI invests in almost all economic sectors and fields in Vietnam, making an important contribution to promoting development and economic restructuring.
Growing population leads to super impressive purchasing power forecast
With more than 95 million inhabitants, Vietnam is the 14th most populous country in the world. According to Worldometers forecasts, the population will increase to 105 million by 2030.
With a growing population, Vietnam's middle class is growing faster than any other Southeast Asian country. Steady economic growth means higher incomes, which in turn lead to a growing middle class. Nielsen, a market research firm, estimates that Vietnam's middle class will grow to 44 million by 2020 and 95 million by 2030. This will support consumers who make Vietnam a lucrative target for foreign investors.
Procurement demand increases rapidly with low investment costs in Vietnam
Business investment capital is relatively low compared to many other countries
Compared to many other countries, most occupations in Vietnam do not have minimum capital requirements. In fact, setting high capital when registering a company in Vietnam is one of the common mistakes foreign investors make here.
You can start a business in Vietnam without having a lot of franchise money in your pocket. Just make sure you have enough money to cover the company's plan and you're good to go. Also, please note that your stated capital must be paid in full within 90 days of your company incorporation.
Despite the annual increase in the minimum wage, Vietnam is still a country with low labor costs. Wages in Vietnam are still less than half of those in China.
Rising wages in China are forcing manufacturers to look for markets with lower labor costs. Vietnam, with a low minimum wage and a growing economy, is a low-cost alternative to China.
The above are the reasons why foreign investors invest in Vietnam. It is now much easier to invest in Vietnam. Many conditional business lines have been canceled. In addition to the state's investment support and preferential policies for investors, foreign investment has also driven investment in Vietnam.
Vietnam is an active country participating in major trade blocs in the world
Another example of Vietnam's economic opening is its participation in the signing of many bilateral and multilateral free trade agreements with many countries and regions to attract foreign investment and markets. Vietnam, such as bilateral trade agreements with the United States, South Korea, Japan, the European Union, ASEAN Economic Community, CPTPP, etc., and are continuing to negotiate many other trade agreements. Greater integration with the world will bring many advantages to investors from these countries and regions when investing in Vietnam.
Vietnam's competitiveness has improved significantly over the years
The Vietnamese government is working hard to improve the country's competitiveness. In 2017, the World Economic Forum raised Vietnam's competitiveness ranking by 5 places to 55/137; the World Bank's ranking of Vietnam's business environment increased by 14 places to 68th out of 190 countries and regions. In 2017, Vietnam's sustainable development index rose 20 places to 68 out of 157 countries and regions.
The country's competitiveness index plays an important role in assessing the country's institutions
Previously, limited infrastructure, especially transport infrastructure, was cited as one of the reasons for the invisible barriers in attracting foreign investment into Vietnam. However, in recent years, in order to remove these obstacles, governments and localities have been actively deploying to attract all resources, on infrastructure, arterial roads, circuits, airports, routes to border crossings, borders, economic zones and industrial areas. .
Stable and highly secure political institution
Political stability in Vietnam is one of the main factors attracting investors to Vietnam. If we look at some countries in the region, it is not difficult to see that most have experienced coups or political crises, while Vietnam's politics has always been stable and secure, ensuring the integrity of the country. of economic development policies.
Chuan Petkaew, a professor at Suratthani University in Thailand, commented that Vietnam has made great progress in various aspects in recent years, and increasingly demonstrates its important role in the region and the world. Political stability has become an advantage in Vietnam's entire development process, an advantage not all countries have.
Vietnam always changes investment regulations from time to time, and continues to implement preferential policies such as corporate income tax relief, exemption of import duties on certain commodities, and exemption of rent and land use fees to attract foreign investors.
The policy change is shown as the Investment Law of 2020, the latest legal document introduced to replace the Investment Law of 2014, changing, improving and supplementing new legal policies, remuneration, and more favorable to foreign investors.
Infrastructure for trade is very convenient
With the improvement of economic development policies, Vietnam's facilities and technical infrastructure have become more and more complete, and the quality is guaranteed. In particular, the number of scale expansion has also increased, not only increasing in big cities, but also spreading to regions.
In terms of transportation, the quality of transportation services has improved significantly in the past five years, and many modern, high-quality means of transportation, especially air transportation, have increased fivefold in the past five years. 2011 was the best in every way. In 2020 in particular, due to the impact of the COVID-19 outbreak, transportation output has fallen sharply compared to the same period in previous years, especially in the aviation sector.
Above is the relevant information about foreign investment in Vietnam, hopefully this is useful information for investors who are learning and preparing to invest in Vietnam. If you have difficulties or problems with foreign investment or related legal issues, you should seek the support of lawyers in the host country for advice.