License in Vietnam - all about foreign investors need to know
Vietnam is reopening its economy and production and business activities have resumed nearly 90%. Many economic experts expect Vietnam's economy to double by 2022, which means foreign investors will pour money into Vietnam. In that context, licensing in Vietnam is still a concern for investors.
In order for a foreigner or a foreign company to set up a company in Vietnam, it is necessary to register with a Vietnamese government agency and obtain the necessary certificates and permits. These procedures are necessary to protect investors interests and prevent investment fraud. This article discusses some of the practical issues surrounding licensing restrictions on foreign investment in Vietnam.
Issues related to licensing in Vietnam
Notarization of documents
Most foreign investors' foreign documents, including legal entity establishment certificates, articles of incorporation, passports of representatives or directors, must be notarized and legally approved by government agencies and legalized by the Vietnamese Consulate.
As required by company law, many licensing authorities require that foreign documents be legalized at least three months before the filing date. It may take three months or more to complete your investment certificate application and collect the required documents and signatures. Therefore, legalization of foreign documents should be done at the end of the preparation process, not at the beginning. By doing so, the legalized document will be valid for less than three months when it is submitted to the licensing authority.
Notarization issue of foreign documents in Vietnam
The principal office of the foreign invested company
Vietnamese licensing authorities are often particularly interested in the location of the principal office of foreign-invested companies. In fact, licensing authorities may require various documents confirming the right to use the location of a foreign investment company's office.
Business registration of the landlord for office rental. Documents such as a land use right certificate that confirms the owner of the office building. And / or Signed a contract with the landlord. In some cases, if the land or building is mortgaged by the landlord's lessor, the licensing authority may even require consent to the landlord's lease agreement.
Where are investors licensed to do business in Vietnam?
It depends on the investment business line, investment period, project size, location of investment project, and related Vietnamese government agencies. The Ministry of Planning and Investment is responsible for enacting, guiding, consulting and coordinating with other state agencies in the area of ​​investment in Vietnam.
Foreign investors who apply for investment permits at the Ministry of Planning and Investment are the contact points. The People's Committee is a government agency that regulates investment activities in cities and states and issues investment permits to foreign investors. When a foreign investor establishes a business in an industrial zone, the management committee of the industrial zone shall carry out the procedure for granting an investment permit.
For investment projects or areas of conditional investment in excess of US $ 300 billion (equivalent to US $ 14.2 million), the Ministry of Planning and Investment and the ministries participating in the assessment will consult with the Prime Minister. government.
What are the types of business licenses in Vietnam?
Business Cooperation
A specific type of business license designed to encourage foreign traders to make large investments in large projects in Vietnam. Investors can bring some of their profits back to their home countries. All partners are responsible for all types of debt and are also eligible to receive all benefits under the contract entered into in the business cooperation agreement.
Business cooperation license
Joint Venture
As the name implies, a joint venture is an agreement between a foreign company and a Vietnamese company. These types of companies are always limited liability companies. To obtain such a business license, a foreign company must own at least 30% of the company's shares. Other licensing requirements include contracts between foreign investors and local businesses, as well as the provision of joint venture charters. You will also need to submit a legal document outlining the financial position of both parties. Once granted, the business license is valid for 50 years, just like in a business partnership. However, if desired, the validity period can be extended to 70 years.
100% foreign invested Company in Vietnam
Perhaps the most striking type of business that has attracted many foreign investors is 100% foreign invested company. This is basically a type of business where the owner is from a foreign country and the entire fixed investment is a foreigner. As a result, the entire business is owned by a foreign investor or a foreign company. Locals say nothing about ownership of this business. This type of business license is usually required even by a limited liability company or a stockholder. Licenses are issued only if certain requirements are met, including the provision of documents that provide a true source of such capital. You also need to show the feasibility of such a project before getting permission. The license is valid for 50 years and must be renewed after that.
Foreign Corporate Branches
Vietnam has proven to be the perfect country to grow your business. Therefore, more and more international companies are investing in Vietnam and opening branches here. Therefore, such business license requirements are provided in the form of a branch license of a foreign company. You are only eligible for a branch license if your business registration is legal and you can prove that you have registered and operated in your country in the last five years. Once qualified, you will need to provide a certified copy of your registration, a list of activities performed at the Vietnam Chapter, the names of all Vietnam Chapters, the addresses of the local chapters, and the number of foreign employees who will last work at the local branch.
Corporate Branches in Vietnam
Representative Offices
There are a number of foreign companies that want to set up offices in Vietnam but do not engage in transactions or direct income generating activities in Vietnam. Such companies require a representative license. Applications that require a representative license require certified copies of company registration documents. In addition, you need to have the name and working address of the representative of the company in Vietnam.
The application documents for investment license in Vietnam
A written request for permission for execution of the investment project.

If the investor is an individual, please submit a copy of your ID card or passport. A copy of the Certificate of Establishment of a Legal Entity or an equivalent document certifying the investor's legal status (if the investor is an organization).

Investment plan clearly stating the project investor, investment purpose, investment scale, investment capital, capital increase method, investment location and time, labor demand, investment priority demand and evaluate the expected socio-economic effects.

A copy of one of the following documents: Financial statements of the investor for the last two years. Commitment to financial support for the parent company. Financial support from financial institutions. Ensure the financial capacity of investors. An explanation of the investor's financial ability.
All about documents to apply for investment licence
New point in license in Vietnam
The Ministry of Planning and Investment (MPI) has created a mechanism to allow linkage between investment registration procedures and business registration procedures (Interoperability Mechanism). The Interconnection mechanism has been in effect since June 15, 2017, and the cooperation mechanism is guided through the notification No. 02/2017/TT-BKHĐT to process investors' investment and business registration files of foreign Investment (Circular 02).
The Interconnection mechanism does not eliminate the previous procedures. In fact, foreign investors can choose to register investment projects in Vietnam according to the interconnection mechanism or the effective separation procedure. That said, the choice of administrative procedure is now left to the investor, who can choose the most efficient procedure for him or her, taking into account other factors (i.e. document complexity).
In addition, investors will not need to submit two identical documents if they choose the Interconnection mechanism. Before Circular 02 was issued, the application for investment registration and business registration could not be submitted at the same time, so investors had to submit a copy of the application for each procedure.
Under the interconnection mechanism, applications for IRC and ERC must be submitted at the same time, so the business name will be protected when the competent authority notifies the corresponding filing.
As such, MPI appears to be seeking to simplify the process of submitting registrations of investment projects in the country to the competent authorities. It is hoped that this change will not only simplify but speed up the process for foreign investors.
The new Interconnection mechanism to process investors' investment and business registration files
In short, before setting up a business in Vietnam, regardless of the investment industry or profession, the percentage of capital held by foreign investors (from 1% to 100%), an investment project must have a foreign investor. foreign investment, and foreign investment must pass through the investment registration certificate program of. Through a number of mechanisms to reduce the load from Vietnamese law, at present, the application for investment license in Vietnam and enterprise establishment certificate has been linked and saves time for foreign investors.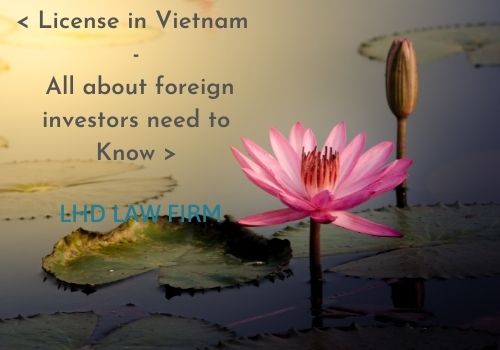 LHD LAW FIRM ADVISE →
Our lawyers and practitioners have maintained an investment consulting practice since 2006 placing us in the best position to advise and provide comprehensive services to foreign investors on the establishment and operations of their investment projects in Vietnam, as well as to provide legal advice on all aspects of the Vietnamese law on investment. Foreign individuals or entities can take advantage of our comprehensive services as follows:
Policies and Conditions
Offering up-to-date advice on policies, the road map of implementation of Vietnam's WTO commitments and market conditions in areas open to foreign investment in general and/or in investor's specific business sector(s) with detailed analyses on advantages and disadvantages of various scenarios;
Advising on the possibility of obtaining an Investment Certificate for the specific project of a prospective investor in Vietnam with analyses on technical barriers and conditions by laws and consideration of possible changes necessary to have the project accepted by Vietnamese Authorities;
Advising prospective investors on the appropriate forms of direct and indirect investment available under the laws of Vietnam with comparison of advantages and disadvantages of each form of investment to simplify the investor's choice.
Document Drafting and Negotiations
Offering detailed advice on procedures and documents required for particular projects, and assisting investors in the drafting of project-related documents; reviewing and advising on all legal aspects of project-related documents;
Representing investors in legal negotiations with their business partners concerning the project-related documents;
Providing all other support services, such as printing, translations, editing, notarizing, etc.
Securing Investment Certificate
Representing investors in the submission of application dossier to the proper Vietnamese authorities and following up the appraisal of the application dossier by these Vietnamese Authorities;
Representing investors in the submission of application dossier to the proper Vietnamese authorities and following up the appraisal of the application dossier by these Vietnamese Authorities;
Obtaining Investment Certificates for projects.
Other Services
Advising investors on the legal aspects of office leases and other land-related matters for construction of projects, labor and employment, company working regulations, business contracts, etc.;
Assisting investors in locating land sites which would best meet with requirements of investors' investment projects.
Email: all@lhdfirm.com