Foreign Investment Exploded In Vietnam and Southeast Asian Countries, Vietnam is about to welcome a surge of foreign investment. Investing in Vietnam will increase sharply, especially in the pharmaceutical and banking sectors.
Vietnam is ready to receive a strong wave of foreign investment after the move to abandon the ownership ceiling of foreign investors in Vietnamese enterprises. Many multinational companies based in Asia are increasingly aware of the benefits of entering Vietnam, one of the region's fastest-growing economies.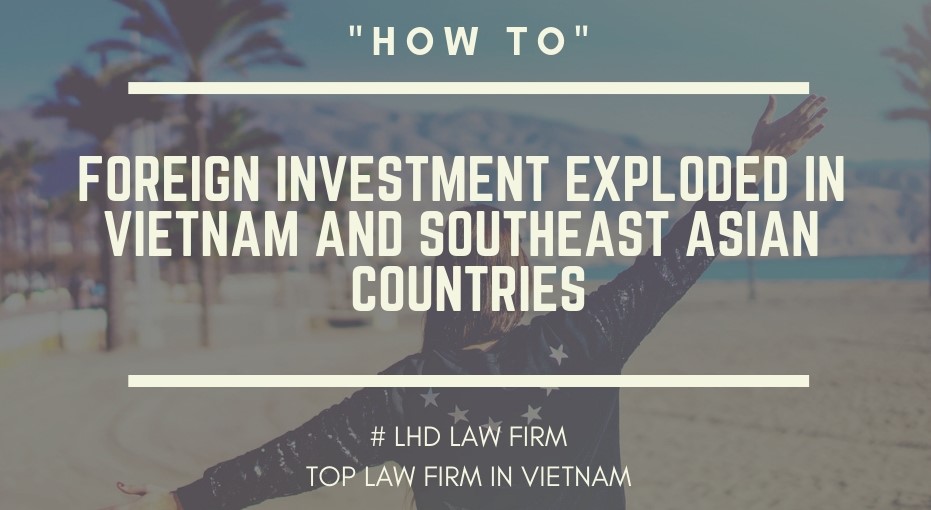 While trade wars between Washington and Beijing are increasingly tense, Vietnam has emerged as a new destination for businesses that are still questioning whether to maintain or continue to expand production in China or not. This trend is bringing some benefits to Southeast Asia despite the trade war between the two largest economies in the world.
# Foreign investment in Vietnam
At the moment, about a third of the more than 430 US companies in China have been considering moving production facilities out of the country because of stress. Their destination is Southeast Asia because of the similarly favorable conditions that this area gives investors. Meanwhile, Southeast Asia meets all the most important criteria as a large growth market with low production costs and strongly promoted free trade activities. In addition, this area does not have many geopolitical risks. In the newly published report, the trade war is considered to be the cause of the sudden drop in Thai exports in September. It was like a warning bell for the effects of commercial wars that could happen to the region. Many economic experts warn the most powerful effects of investing in Vietnam, the US trade war - China can only be fully felt in 2019. That is also the year predicted to be difficult for the global economy, especially in the context that China and the United States cannot find a common voice to address the escalating trade tensions.
# Leaving the ceiling on foreign investors will be a big boost
The Ministry of Finance is considering revising the securities law to allow foreign businesses to hold a majority of shares in companies operating in areas that are not of concern to national security. This is considered a move to attract more foreign investment, investing in Vietnam and if approved, the securities law will witness the first important amendment since 2010. Foreign ownership is limited to 49% in general and 30% in special businesses such as banks and airlines in particular. Although the ceiling of foreign shareholders in enterprises operating in the above two areas may be extended, it is likely that a foreign investor holding 100% of the shares will still not be allowed with conditional business lines. The new draft will be submitted to the National Assembly in 2019.
The removal of foreign ownership limits could completely change the Vietnamese capital market with mergers and acquisitions (M&A) and GDP growth. Many Japanese companies are investing heavily in Vietnam over the years. Japan is the country with the largest FDI inflows into Vietnam in 2017 with 9.11 billion USD, 3 times higher than the same period last year. In the first 9 months of 2018, Japanese enterprises invested 7 billion USD in Vietnam, accounting for 28% of total foreign capital. This is also the highest number of 104 countries and territories investing in Vietnam. Last June, Japan's Sojitz Group spent $ 90 million to acquire Saigon Paper. Cooperation with BRG, Sumitomo, Mitsubishi Heavy Industries and about 20 other companies will build a smart city in Hanoi. Aeon Retail Group has been in Vietnam since 2009.

Investing in Vietnam
# Pharmaceuticals are of particular interest to foreign investors
Banks and especially pharmaceuticals will be businesses in Vietnam and attracting foreign investors when state-owned enterprises seek to divest, according to Roy Forney, an analyst at Dezan Consulting. Shira & Associates.
Forney said that rising incomes made many Vietnamese people more willing to pay for health, thereby boosting the growth of the pharmaceutical industry. Current law prohibits foreign businesses from distributing their own medicines and M&A deals with Vietnamese companies as a solution to their market entry problems.
India's drug manufacturer Renova Global is looking for opportunities in the Vietnamese market. Renova has a representative office in Hanoi and Ho Chi Minh City and wants to expand its activities. Meanwhile, Japanese pharmaceutical company Taisho soon realized the potential of Vietnam market. In 2016, Taisho acquired 24.5% of Hau Giang Pharmaceutical and has increased its ownership to 32% in August. The Japanese company has planned to continue buying 2.3% more shares of Hau Giang Pharmaceutical.
According to Ernst & Young, the rapid growth of e-commerce in particular and the technology industry, in general, can make many foreign investors more interested in Vietnam's logistics sector. Vietnam is still an unfamiliar market for many companies in the US and Europe but this will soon change in the context of escalating US-China trade war, which many manufacturing enterprises want to flee from China. Rising labor costs are also a minus point for foreign investors with the world's most populous country. Many Southeast Asian countries, including Vietnam, are becoming the next destination for these businesses.
LHD Law Firm with 10 years' experience advising foreign investors in Vietnam We will give you advice and clarify all your concerns and take care of your company license. Moreover, the LHD can help you with financial statements showing the Government of Vietnam and track your business activities and is always around to advise your business.
Price: upon request all@lhdfirm.com
In the new context, Vietnam has advantages to select the quality of investing in Vietnam projects. In addition to the abundant workforce and stable macroeconomy, improving the business environment is one of the driving forces to attract the most effective.