Cost of setting up business in vietnam: If you want to set up a business in Vietnam, you must first learn about the existing legislations in terms of investment as well as the types of businesses allowed to expatriates in the country. You must above all obtain an authorization of entry which will allow you to apply for a business visa to Vietnam.
Types of companies
There is no legal minimum or maximum capital regardless of the type of business you choose to create in Vietnam. You can invest either in local currency which is the Vietnamese dong or in convertible foreign currency. You must also determine the status of your company, stating the name and address of the head office and branches of your business, mentioning the area in which you intend to invest.
On the other hand, you must specify if it is a collective society mentioning the names and nationality of your business partners, have an organizational and management plan for your company. You will have to hire a legal representative to assist you with the procedures.
CONDITION FOR ESTABLISHMENT OF SOME HOT INDUSTRIES AND BRANCHES IN VIETNAM
1. Import and Export
- The registerd capital of USD 50,000 or more.
- Individuals or companies satisfy the standards for establishment registration
2. Management and Investment Consultancy
- Registered capital of USD 10,000 or more
- Individuals or companies satisfy the standards for establishment registration
3. Retailing and Distribution
- The registerd capital of USD 200,000 or more.
- Companies/Organizations will satisfy the standards for establishment registration
4. Restaurants, Foods, and Beverages, Cafeterias
- Registered capital of USD 10,000 or more
- Individuals or companies satisfy the standards for establishment registration
- Asking for location for restaurant or cafeteria
5. Training
- Registered capital of USD 20,000 or more
- Individuals or companies satisfy the standards for establishment registration
- It is necessary to consult opinions of the Ministry of Education and the planning on location in the locality.
6. Construction and Architecture
- The registerd capital of USD 10,000 or more.
- Individuals or companies satisfy the standards for establishment registration
- Asking for more opinions from the Ministry of Construction
7. Production
- The registerd capital of USD 10,000 or more.
- Individuals or companies satisfy the standards for establishment registration
- Asking for more opinions on location for production
8. Real Estate Business
- The registered capital of USD 1,000,000 or more.
- Individuals or companies satisfy the standards for establishment registration
- The project required before establishment...
Cost of setting up a business in Vietnam - Evaluation and comparison with other ASEAN countries
The cost of setting up a business in Vietnam is a dilemma for foreign investors. According to experienced investors, Vietnam is one of the viable countries with low start-up costs.
In Vietnam, not all businesses require a large budget to start. In fact, many micro enterprises can be set up for less than $ 3,000. These are proprietary companies that are usually operated online and require very little capital. How to make start-up costs low in Vietnam? Is that number lower in other ASEAN countries? The article below will give you the answer.
Cost structure for establishing a company in Vietnam
Before learning how to start a business in Vietnam at the lowest possible cost, you first need to understand the cost structure of the business registration process. By understanding where and what you have to spend, you will know how to keep costs down on what you don't need and how to get cheaper alternatives.
Capital investment: This is the biggest expense item to start a business in Vietnam. What you must do before becoming self-employed is the initial investment in your business.

Business address: One of the basic requirements to set up a company in Vietnam is to have a business address. A business address is not the same as a residential address. This is done by displaying a rental agreement stating the reason for registering the business.

Hire a permanent director: During the registration process, the company must appoint a permanent director. If the investor is not in the country at the time of registration, you will need to approve or hire someone.
Important expenses for setting up a company in Vietnam
Application administration fee: Includes document preparation (document certification, legalization), state fees, and service fees paid to facilitators or agents to assist in completing the application process.
The costs of setting up a company in Vietnam depend on your understanding of the market and your social networks in Vietnam.
Set up a company in Vietnam with the lowest cost
If you have a business idea but are thinking about how to incorporate it on a tight budget, keep these tips in mind.
Unlike other countries, Vietnam has no minimum capital requirements for foreign companies to register companies in Vietnam. Foreign companies must obtain approval from the Ministry of Planning and Investment before expanding their business in Vietnam. To be approved, the program's minimum contribution must match the company's actual program costs.
In fact, you can set up a company in Vietnam for just $ 3,000. In manufacturing, you definitely make more money than the cost of a machine.
A typical startup capital on hand in Vietnam is $ 10,000. This is well below the minimum of $ 175,000 in other countries like Indonesia. Some special business areas in Vietnam, such as language centers, real estate companies and vocational schools, have minimum capital requirements that require companies to carefully check government regulations.
Ways to help you set up a company in Vietnam with the cheapest cost
1. Choose a simple business structure
In Vietnam, there are many ways to start a business. You can choose to own a company as an individual, a corporation, a single shareholder, or a group of shareholders. You can also choose from a limited liability company (LLC) or corporation, representative office, branch, etc. Each type of organization has its own application process and deadlines. It is faster and easier to form a sole proprietorship, reducing costs and administrative obligations.
Therefore, business owners within a budget should keep their business structure as simple as possible. A limited company with many shareholders is always easier to establish than a joint stock company. Private companies can be incorporated faster than company-owned companies and it costs less to create documents.
2. Unconditional registration of public institutions
There are two types of businesses in Vietnam, conditional and unconditional. Conditional means that the company does not have to meet any requirements other than the two basic/minimum requirements (address, resident director). The most famous unconditional businesses are consulting, IT, simple trading companies, real estate and e-commerce.
Conditional businesses, on the other hand, provide a list of requirements that a registered company must meet. For example, if you want to open a restaurant, you first need to secure a place. In other words, you must pay rent to get the tenancy agreement submitted with the application. If you want to set up an executive search firm, you will need to pay an escrow deposit of $15,000.
A team of experienced consultants will advise you on the right business line for your company. She can also suggest appropriate alternatives to transform the original conditional business into an unconditioned business. As a result, the process is simplified and setup costs are reduced.
3. Use a virtual office as a business address
Most unconditional businesses can use a virtual office to register their company. Using a virtual business address is much cheaper than renting physical office space. Using a Virtual Office is the best option, especially for online businesses, as it saves unnecessary costs.
4. Ask a friend for help to become a resident director
By law, a company must have at least one director (legal representative) residing in Vietnam. If you live in Vietnam, you can easily play this role. On the other hand, people abroad may need to hire someone temporarily to get a job. You can save money by having a friend or someone you trust fill the position for you.
Friends may express concerns about providing their name as the legal representative of the organization. An expert can help your friend explain and clarify all the points, making them clear about the role, which can help them easily accept your request.
5. Determine the amount of available capital
As mentioned, capital investment is the most expensive element to set up a business in Vietnam. It is understood that the money will be used to cover the future expenses of the company until the company has enough revenue to remain viable and profitable.
You don't have to start with a lot of money for consulting, IT or other online businesses. You can choose to start with a small amount and increase it as needed. It is important to note that capital investment changes require prior approval from the relevant authorities prior to implementation. This requires some paperwork, so some foresight is helpful. Immigration officials may also be suspicious when applying for an investment visa to Vietnam, which has no money. This requires additional instructions, submission of documents and a shortened visa validity period.
Common mistakes that make the cost of opening a company in Vietnam increase
When foreign companies enter the Vietnamese market, there are some common mistakes. Read this list and avoid them!
Invest the wrong money in your business
Most business units in Vietnam do not have a minimum capital requirement. This means you don't need a lot of capital to set up a company in Vietnam. However, official approval from the government is required. This will ensure that you have enough funding to meet your projected business needs.
You should avoid common mistakes that make starting a company more expensive
Using unreliable candidates
Foreign companies that sign contracts with unreliable candidates are having a hard time. Trusting others may sound like the right decision at first, but it can be a huge risk. The safest way is to work through a professional services company like NNRoad, not an individual.
Bypass local regulations
Another common mistake is not complying with tax reporting requirements and local laws. It should be remembered that foreign companies in Vietnam are often more closely monitored than domestic companies. Therefore, it is more important to conduct a careful investigation to ensure that the company is complying with local regulations in Vietnam.
The cost of opening a business in Vietnam compared to other ASEAN countries
Vietnam is a suitable destination for companies in areas such as electronics, which do not require high-tech production, highly skilled labor and is the region with the lowest average operating costs. , only higher than Cambodia and Myanmar.
Regarding labor costs, accounting for 55% of total costs of maintaining business operations, Vietnam is the fourth largest market after Cambodia, Myanmar and the Philippines.
In 2020, the United States News & World Report ranked Vietnam 8th as an investment target country, followed by Malaysia (13th), Singapore (10th), Malaysia (12th) and China (19th). Perceptions of more than 6.00 business decision makers on attributes such as economic stability, entrepreneurship and tax environment. In 2019, 125 countries invested in Vietnam.
By region, the capital Hanoi attracts the most foreign direct investment, accounting for 22.2% of total investment capital. As of December 20, the whole country had 30,872 valid projects, mainly in the field of processing and manufacturing industry. Vietnam also began establishing special economic zones (industrial parks) in the late 1990s to attract labor-intensive manufacturing industries, which account for 60-70% of total FDI.
The cost of setting up a company in Vietnam is very low compared to other countries in the region
In summary, each country has different strengths and weaknesses when it comes to foreign investment, business establishment and business activities. Different industries and business units may have different priorities, and all criteria must be evaluated before doing business in Vietnam and other ASEAN countries.
Registering your company Vietnam
The next step is to register your company with the Provincial People's Committee closest to your company's head office. In fact, you are required to send a completed application by producing the following documents:
status report of the company
the list of shareholders or members and a copy of their identity card or passport
if the shareholder is a foreign company: a copy of the registration certificate
the certificate of paid-up capital for the establishment of the company
the exercise certificates of directors or associates.
Good to know
In general, the registration certificate should be issued within ten days from the date of submission of the request. However, you must make sure that your business activities are not prohibited in Vietnam and that the name given to the company complies with the provisions of Vietnamese law.
Once you have obtained the registration certificate, you have to publish information about your company on the registration office website, as well as in three consecutive editions of local newspapers within 30 days as from the date of issue.
Note that your company will be subject to income tax once you have registered with the Revenue Department of the Vietnamese Ministry of Finance.
According to the rankings of Legal500 and Hg.org, LHD Law Firm is one of the 10 leading legal services in Vietnam for our consultancy of establishing a foreign-owned capital business in our country. With 10-years experience in the field and the office system throughout the country: Ho Chi Minh City, Hanoi, Da Nang, Vung Tau, etc., LHD Law Firm takes pride in our commitment to satisfy our clients as foreign investors in Vietnam.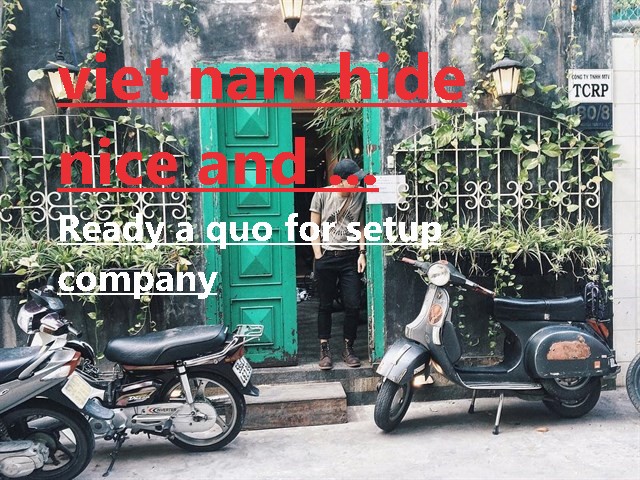 TOYOTA; WACOAL, DELOITTE; DLH; SHISEIDO; FOS; DLT; YAMAZEN; SANKOUGIKEN; DIEMSANG; IFO; ALTECH; TRIUMPH; SOMETHING HOLDING, HSE, D3 AQUA, SUZUKA, TNS GLOBAL, FLEXLINK, RUNSVEN, RHODES, ADJ, AOA, BERNOFARM, INNOBAY, TELESCOPE, LEEKANG, NAMAZIE, SDGI, KI …VV
→ CONTRACT US NOW )